On target to follow their dreams
On target to follow their dreams
Noongar teenagers Tayla Winmar and Jenaya Colbung have big plans for life after they finish high school on Western Australia's picturesque south coast.
"I'm the youngest of four and I'm going to be the first to finish Year 12," says Tayla, 17, who is getting As in her science subjects.
She is fascinated by rocks, shells and old books, and wants to study the structure of bones at university next year and become an osteologist.
Jenaya, 15, has more time to decide her path but she is sure it involves university. A gifted netballer, she likes the idea of a job in sport.
These are not just dreams. Tayla and Jenaya are literally working towards their goals. Twice a week, when their lessons finish for the day at Albany Senior High School, they go to a classroom on campus for a deceptively simple homework program that is quietly helping indigenous students achieve measurable results.
The Graham Farmer Foundation's Follow the Dream program has survived largely on corporate sponsorship but it is a blueprint for government, according to the foundation's patron, Sue Gordon.
Ms Gordon, a former Children's Court magistrate, knows Australia has not been meeting targets to close the gap between indigenous and non-indigenous students on school attendance, numeracy and literacy. "What we need to do is fund the programs that actually work," she said.
"In education, programs get funded for political reasons. It should be about results."
Follow the Dream began pairing kids with tutors in Western Australia 23 years ago and has ­recently been rolled out to Alice Springs and Groote Eylandt. It now tutors 1380 indigenous teenagers in 10 towns and cities.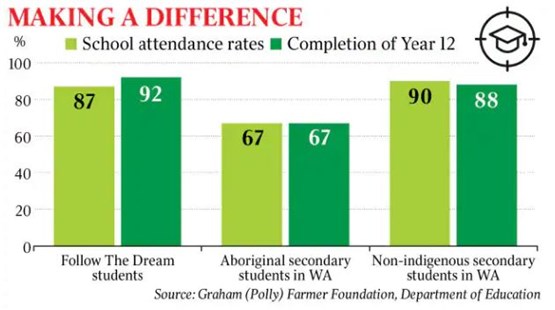 Share This Story, Choose Your Platform!